Description
1998 1999 2000 Toyota Sienna 3.0L Catalytic Converter
Toyota Sienna 3.0L six cylinder direct-fit front y-pipe with 2 flexes and catalytic converter (FEDERAL EMISSIONS MODEL ONLY); this catalytic converter bolts up at the top to manifold/header on the radiator side and firewall side. In the rear this converter bolts on to the middle muffler assembly. O2 sensor port is placed on the front pipe just like OEM for easy installation.
This unit comes in two pieces for easy and hassle-free installation.
Please note this catalytic converter will only fit models that have two flex pipes on their front catalytic converter; please inspect before purchasing!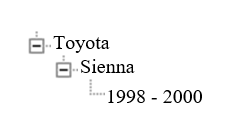 Body height

3.500″

Body length

10.000″

Body Material

Stainless Steel

Body Width

6.125″

Overall Length

68.375″

Oxygen sensor location

Post Catalyst

Universal Or Specific Fit

Direct Fit

Body Shape

Round

Substrate Material

Ceramic

Restricted States:

California